Posted by T. Keresztes on Mar 10th 2020
The best haircut I ever got was at Massachusetts General Hospital under the expertise of Kathleen Bazazi, General Manager of Images Oncology Boutique, a specialty shop that caters to adult and pediatric cancer patients to help them feel comfortable with their appearance during and after cancer treatment.

It was just a few weeks before I would begin loosing my hair due to a new breast cancer diagnosis; Lobular Cancer now in my right breast and soon to be underway Chemotherapy treatments that would quickly take away my new stylish look. Nevertheless, Kathy took to her shears and recommended a variety of wigs she said would be perfect for me and look like my natural hair. She comforted me as she quickly talked me through the process and I knew I was in good hands. In fact, my new wig looked better than my own hair and people asked, "Did you get a Brazilian blow-out?" and "I love your new haircut!". My family was impressed as I had never taken much time styling my hair. Now within minutes, I am ready to go, completely coifed and steppin' out in style. I love the red and deep brown natural highlights and will definitely seek out this new color and style once my hair starts growing back. And now for a few chemo hair loss tips:
Eyebrows - When I began losing my eyebrows (and looking a bit like an Amoeba), I used a dried up mascara brush with a bit of mascara left and brushed on natural looking brows that I filled in with an eyebrow pencil.
Eyelashes - When my bottom lashes began thinning, I brushed them on using a mascara brush that painted them in place!
Hats - A variety of baseball caps sufficed along with some cozy hats with furry pom poms. I picked them to match my outfits, preferring the lightweight nylon baseball caps for warm days, sometimes with inspirational phrases and sometimes plain black when I needed anonymity.
Wig care - When that wig starts to sag a bit, throw it in the sink some wig shampoo and conditioner and air dry overnight.
Scarfs - A variety of colors and fabrics to suit your mood paired with some lipstick will set your day in the right direction.
Earrings - Never forget them! Try something new; large hoops, small pearls, something sparkly or handmade - anything will do to add a bit of style, funk or glamour everyday.
In addition to wig styling and consultation Images Oncology Boutique also provides personal services including My Girls Skin Care for help with radiation burncare and dryness that comes with chemotherapy, as well as cosmetic consultation for oncology patients and breast prostheses fittings by a certified fitter.
"I have wonderful clients who fight back. I have to say that the best part of my job is seeing a patient that did not have a good prognosis and then they are still stopping in to say hi many years later. I also love it when a patient thought they were going to hate their wig so much and still ended up wearing it after their hair grew back." Kathleen Bazazi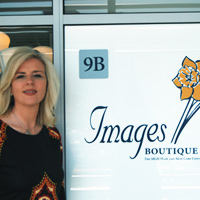 Images also offers in-room services for patients and other important items that comfort during and after cancer treatments including:
Hair alternatives, including a large selection of wigs, hats, scarves, turbans and hair pieces

Specialized apparel for women who have had a mastectomy

Educational books and videos

Relaxation tapes

Aromatherapy products

Jewelry
Images Boutique
Yawkey Center for Outpatient Care, Suite 2D
Boston, MA 02114
Phone: 617-726-3211
Fax: 617-643-1121
Hours: Monday through Friday, 8:30 am-5:00 pm

Images at Northshore
102 Endicott Street, Room C 168
Danvers, MA 01923
Phone: 978-882-6365
Fax: 978-882-6516
By appointment only