Posted by amk on Apr 6th 2023
Using aluminum-free deodorant during and after radiation therapy can have several potential benefits:
Avoidance of potential skin irritation: Radiation therapy can cause skin sensitivity, redness, and irritation in the treated area. Some deodorants and antiperspirants that contain aluminum may further irritate the skin, especially if it is already compromised due to radiation therapy. Choosing an aluminum-free deodorant can help minimize the risk of skin irritation and discomfort.

Reduction of potential aluminum exposure: Aluminum is a common ingredient found in many conventional deodorants and antiperspirants, and there has been some concern about its potential link to breast cancer and other health issues. While research on this topic is inconclusive and further studies are needed, using an aluminum-free deodorant during and after radiation therapy may provide peace of mind for individuals who wish to minimize their exposure to aluminum.

Use of natural and gentle ingredients: Aluminum-free deodorants often contain natural and gentle ingredients such as baking soda, cornstarch, or plant-based extracts that can help neutralize odor-causing bacteria without causing skin irritation. These ingredients may be preferable for individuals undergoing radiation therapy, as they can be gentle on the skin and less likely to cause further discomfort.

Support for overall skin health: Radiation therapy can impact the health of the skin in the treated area, and it's important to take care of the skin during and after treatment. Choosing an aluminum-free deodorant that is formulated with skin-nourishing ingredients such as shea butter, coconut oil, or aloe vera can help promote overall skin health and provide additional comfort during radiation therapy.


Personal preference and comfort: Some individuals may simply prefer to use aluminum-free deodorants as a personal preference or due to personal beliefs about aluminum exposure. Using an aluminum-free deodorant during and after radiation therapy can provide individuals with a sense of comfort and confidence in their personal care choices.
Recommended Products
My Girls 2 Oz Aluminum-free Deodorant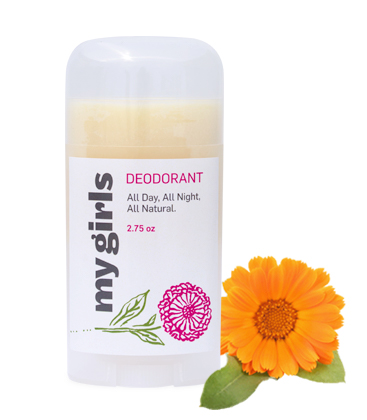 Important: Everyone's experience with radiation therapy and sensitivity to deodorants may vary. It's always best to consult with your healthcare provider or radiation oncologist for personalized advice and recommendations on the use of deodorants during and after radiation therapy. They can provide you with specific guidance based on your individual situation and needs.
Disclaimer: DIsclaimer: information provided is for educational purposes only and not intended as a substitute for medical treatment by a healthcare professional.