Posted by Amk on Mar 15th 2023
What is Happening to My Hair!?
An unfortunate side-effect of cancer treatments is hair loss. Chemotherapy, radiation therapy, hormonal changes, and stress can cause not only hair loss, but thinning hair and breakage.

Managing Hair Loss During and After Cancer Treatments
A few tips we have learned at My Girls Skin Care over the years from our staff and customers are listed below for help with thinning hair problems due to the multitude of cancer treatments including chemotherapy, hormonal changes and stress that can cause hair loss, thinning and breakage: Learn more
Apply Castor Oil - use castor oil made from castor beans has natural benefits for thinning hair: Apply a few drops to your scalp and massage it in. You can also apply castor oil to dry hair as a hair mask. Rub the oil into your hair, then cover your head with a shower cap for around two hours. Wash well with shampoo and style as usual.

Hydrate and moisturize hair - Castor oil hydrates the hair and scalp and is packed with Omega 6 and Omega 9 fatty acids which fortify the hair with moisture. Castor oil helps trap moisture and seals hair strands. Massaging castor oil on the scalp boosts blood circulation to the follicles that aids hair growth, makes hair h3er and thick, and reduces hair fall. Castor oil also makes hair shiny and lustrous.
Healthy and shiny hair - Castor oil is a natural conditioner that keeps your hair healthy, shiny, and soft. This oil contains amounts of oleic and linoleic acids and can restore normalcy to hair. When massaged this oil helps increase blood circulation that improves hair growth. Castor oil has emollient properties making it ideal for dry and damaged hair.

Antibacterial and antifungal properties - The application of castor oil to the scalp protects against bacterial and fungal infections that may affect the scalp. Castor oils can reduce inflammation and dandruff caused by seborrhoeic dermatitis and eczema.
Recommended Hair Products

Boost hair growth - Massaging the scalp with products that contain castor oil such as My Girls' Organic Scalp Treatment that can also increase blood circulation and stimulate hair growth. The potential castor oil benefits for hair come from its healthy constituents like fatty acids and antioxidants. These may improve hair health.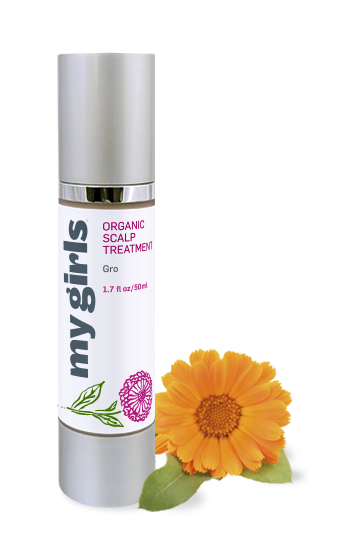 Other tips include:
C

onsider buying a hair fall that matches your hair color and attach to your crown to give the appearance of thicker hair.





Search for shampoos and conditioners that contain rosemary. Rosemary, an herb known for its properties for helping hair appear thicker and healthier has many natural benefits as part of a natural, plant-based hair care routine, especially for enhancing shine and smoothing hair texture.
IMPORTANT: Results may vary depending on individual factors such as the severity of hair loss, overall health, and other treatments being undergone. Please be sure to consult with your medical team for personalized advice on managing thinning hair during cancer treatments.
DIsclaimer: information provided is for educational purposes only and not intended as a substitute for medical treatment by a healthcare professional.