Posted by T. Cofey on Oct 21st 2016
In celebration of National Breast Cancer Awareness Month, Susan G. Komen Southern New England will put on an event, Catwalk for the Cure at The Innovation and Design Building in Boston.
Catwalk is a cocktail party and fashion show featuring breast cancer survivors and thrivers wearing the latest fashion trends from Boston-based designers. Among these models are Carol Chaoui and Theresa Keresztes, friends who both reside in Wellesley.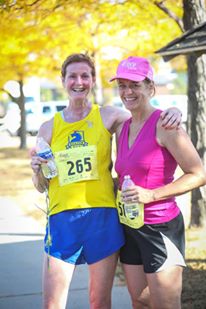 Carol Chaoui and Theresa Keresztes, of Wellesley
Chaoui was diagnosed with Stage III breast cancer in 2009 and then diagnosed with Stage IV, or metastatic breast cancer, in August 2015. She says having breast cancer made her more aware of giving back to her community and is an active fundraiser. Now on daily targeted therapy, injections and infusions, Chaoui maintains a healthy lifestyle, is an avid runner and believes that positivity is important for recovery. She became involved with Komen following her original diagnosis and is grateful that she was able to connect with other survivors including Keresztes. For those going through breast cancer and undergoing treatment, her advice is to "find something you love, and do it as often as possible." Keresztes, is an 8-year breast cancer survivor. She explained that breast cancer made her feel extremely vulnerable, and reminded her to take advantage of every moment in life. Keresztes said nothing else mattered but protecting her health and being strong for her family. While undergoing treatments, she developed radiation dermatitis, which left burns and blisters on her skin. This led her to create My Girls™ Skin Care Cream, a calendula-based cream with natural anti-inflammatory properties that she discovered while visiting Hungary. The cream successfully stopped her radiation dermatitis, so she wanted to provide it to others undergoing radiation and dealing with skin irritation that often can delay important treatments. Today, My Girls Skin Care Cream is recommended by treatment centers and hospitals in the U.S. and Europe. Catwalk for the Cure is presented with event partner 33 MUNROE LLC.

The evening will begin at 6:30 p.m. with a cocktail hour, hors d'oeuvres, silent auction and samplings from several local vendors. Vendors and sponsors for the evening include 90+ Cellars, Bent Water Brewing Company, Gina DeWolfe leather goods, MiniLuxe, New Balance, Pinkberry and Tito's Vodka. The fashion show and educational program begins promptly at 8 p.m. All proceeds support Susan G. Komen Southern New England, funding breast cancer education, screening and treatment for local families in need as well as research. Tickets cost $150 at KomenSouthernNewEngland.org/CatwalkfortheCure.