Posted by Theresa Keresztes on Jan 23rd 2021
Surfing was a goal of mine when we travelled to Oahu for the first time with the kids and a major fear, having recently started new treatments for breast cancer. To my husband's dismay on a morning that was becoming increasinly hot, I searched the beaches of Waikiki for someone whom I could trust. Look no further than Sparky's Surf School. After I told him about my goal and a bit or two about my physical limits; I can't feel my feet due to neuropathy. A big thank you to iBrance and chemotherapy. Sparky looked at me with steely confidence and said "We'll get you up." With a firm handshake he added "See you at 11 a.m. by the Duke statue...Aloha." That's all I needed. He gave me the mechanics of how to get up on the board and then looked at me and said "I can tell you how to do it but you have to have confidence." He saw right through me as I had lost my mojo and was unsure of my ability to do this without getting hurt. Well, I understood him loud and clear and was determined to live as I had done so before. Isn't that what life is all about? I got up on that wave the first time and everytime. I focused on maintaining balance as I felt the power of the wave underneath me and enjoyed the sheer joy that I had overcome my fear and was surfing at the age of 53 with my kids! I fist pumped Sparky, my kids and Sam his assistant. I can't wait to get up on a board again and feel that sense of balance and confidence that my body can still do the things I want it to.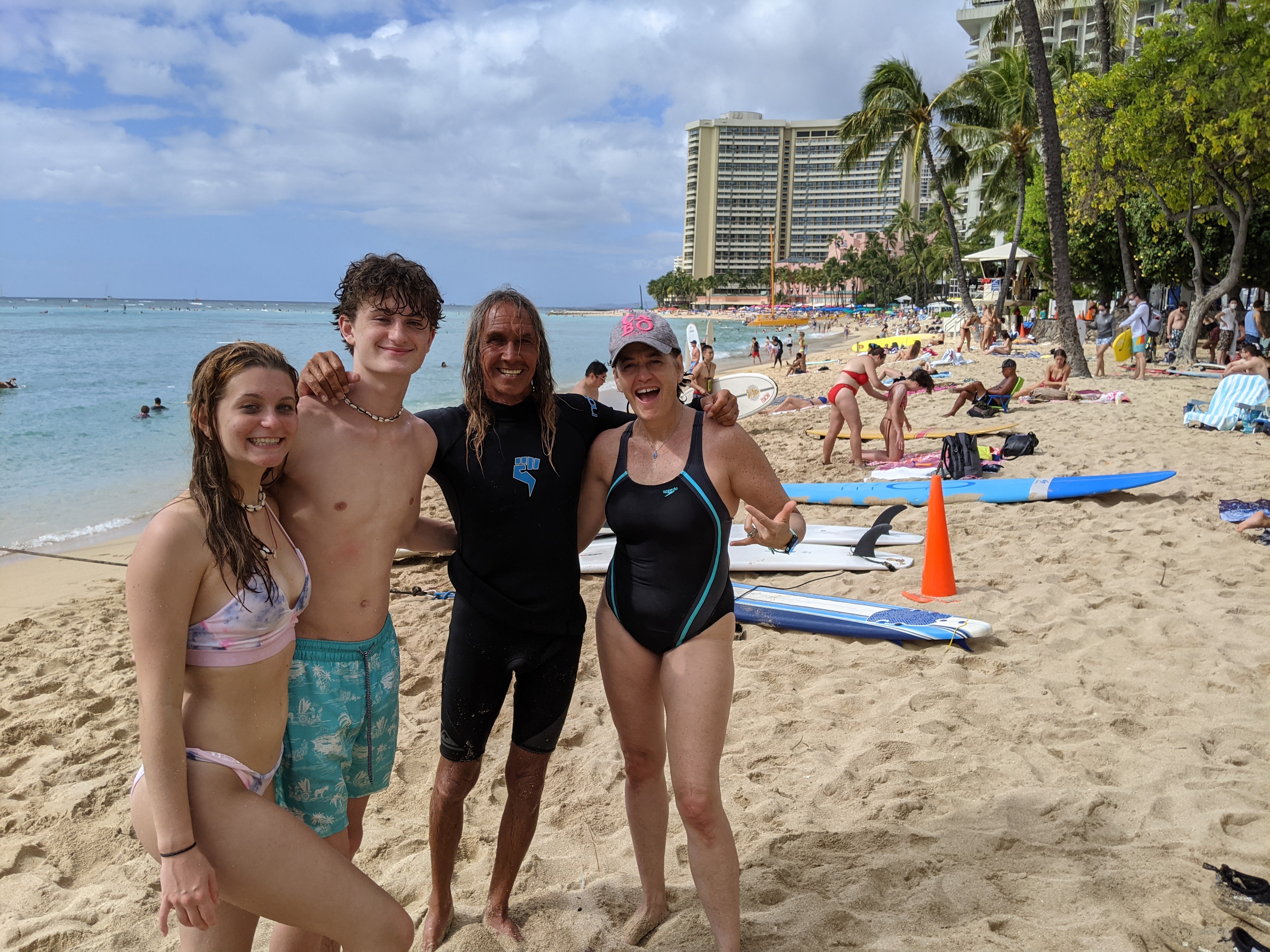 Later on, Sam asked me what I did. I told him, "I help people with breast cancer." He told me a story of a group of breast cancer survivors he had taught to surf on a rainy day. "It was a gloomy day, I felt bad and then each one got up on the wave at the same time; a White woman, an Asian woman and a Black woman and the sun came out. It was beautiful. Breast cancer, it's all cancer and you can heal; you need to change your lifestyle, diet and you need your family to heal." He added that he works with a non-proft group that helps at-risk youth to live better lives, conquering challenges by learning to surf: "You decide; you can either catch the wave, eat it or sit it out." Good advice and I plan on remembering his words on those days when I need encouragement and inspiration to keep finding the joy I found being in the moment up on the wave.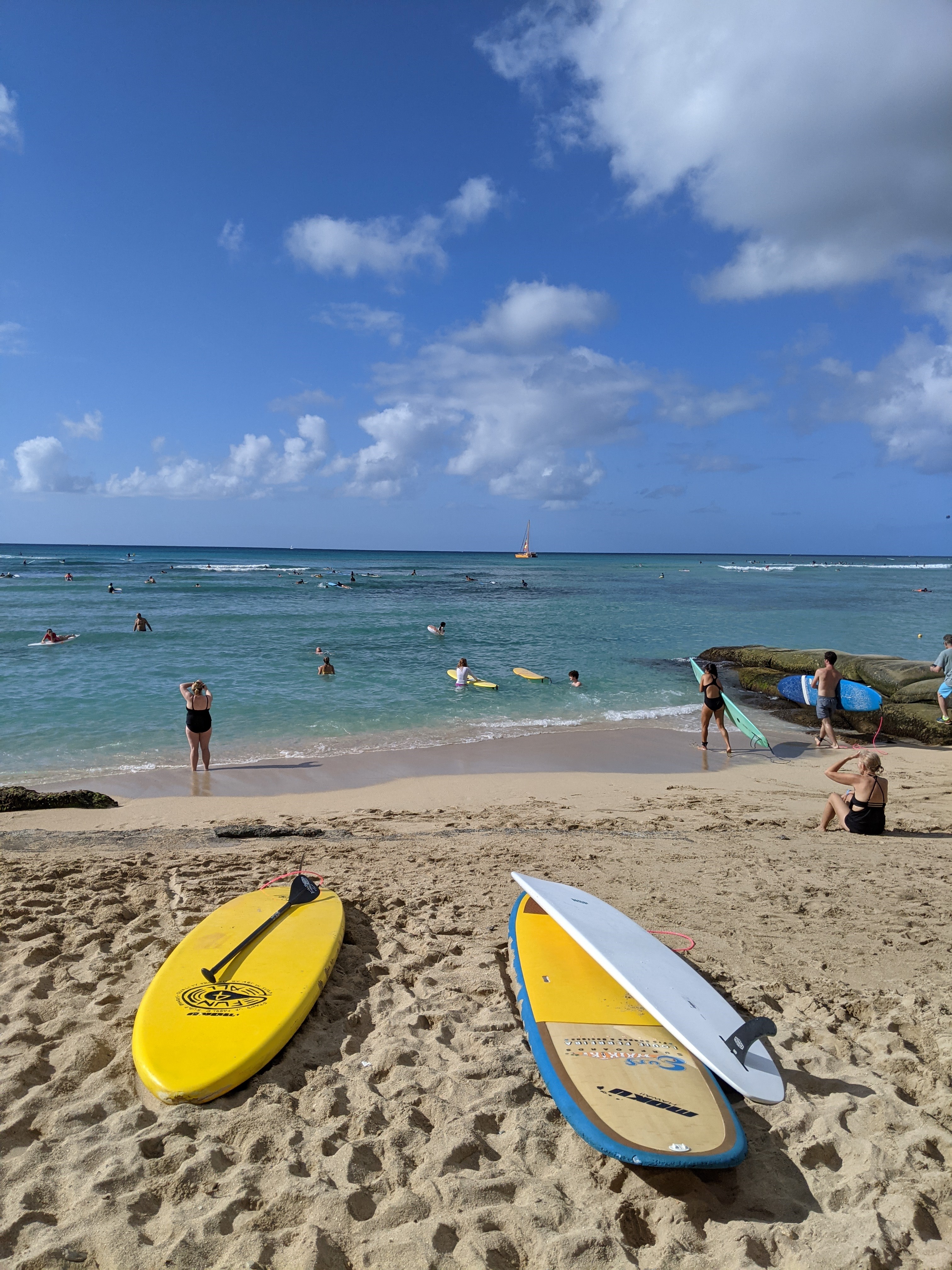 "Cynthia Y.H. Derosier, the author of the books Sam gave me, is a local girl who grew up surfing the shores of Hawaii. After leaving her advertising job in New York, she had a dream about writing a book to help others. Today it has grown into a non-profit program known as the Surfrider Spirit Sessions Program. Her books entitled "The Surfer Spirit" and "The Survivor Spirit" gave me encouraging words on how to keep on Livin' after a diagnosis...perhaps I will return again to the shores of Waikiki, next time with a group of breast cancer survivors along for the ride.

Oh and yes, I did wear sunscreen and apply My Girls Cream to soothe my Irish tan." Theresa Keresztes, Portland, OR - DCIS, 2007 and Lobular Breast Cancer 2019