Posted by MD Connect on Feb 11th 2016
Herbs and herbal preparations are the earliest of all medicines available to and used by mankind to treat all sorts of diseases and ailments. In fact, the earliest known printed books detailing the use of herbs – called herbals – date to about 5,000 years ago, when some enterprising practitioner in Mesopotamia had the bright idea of writing down concoctions and preparations to preserve them for posterity (and to make sure treatments remained consistent form one patient to another).
Calendula benefits are highly touted in many herbals – both the ancient ones and the ones from "modern days." Officially called Calendula officinalis, this unassuming flower is better known by its common name, marigold, although the true form differs markedly from the varieties you'll find at most garden centers and markets today.
Calendula Benefits
Since the days of the Roman Empire and for many centuries before, calendula has been used widely for a number of ailments and conditions, both as oral solutions and as topical preparations. In India, the flower is so highly prized, it's considered sacred and is a common adornment for the statues of Hindu gods.
While old herbals list calendula as a cure-all for many illnesses and complaints, historically its primary use was for treating upset stomach and cramps. More recently, though, oral use of calendula consumed often in teas enjoyed for their digestive benefits but also for their colorful orange hue has fallen away, and greater attention has been paid to the topical uses of calendula for soothing and healing skin irritations, including rashes, blisters and dermatitis.
The extracted oils of calendula are chock full of lutein and beta-carotene and have been found to have anti-inflammatory properties that can aid in helping wounds heal more quickly while decreasing painful swelling that can occur as a result of skin irritation like dermatitis. Plus, studies have shown the oils have antibacterial and antiparasitic properties that can prevent infection and promote a better environment for faster healing of damaged skin.
Topical calendula is so safe, it's been successfully used in treating earaches in pediatric patients, and it's even widely used as a safe and effective diaper cream for infants.
Calendula and Radiation Dermatitis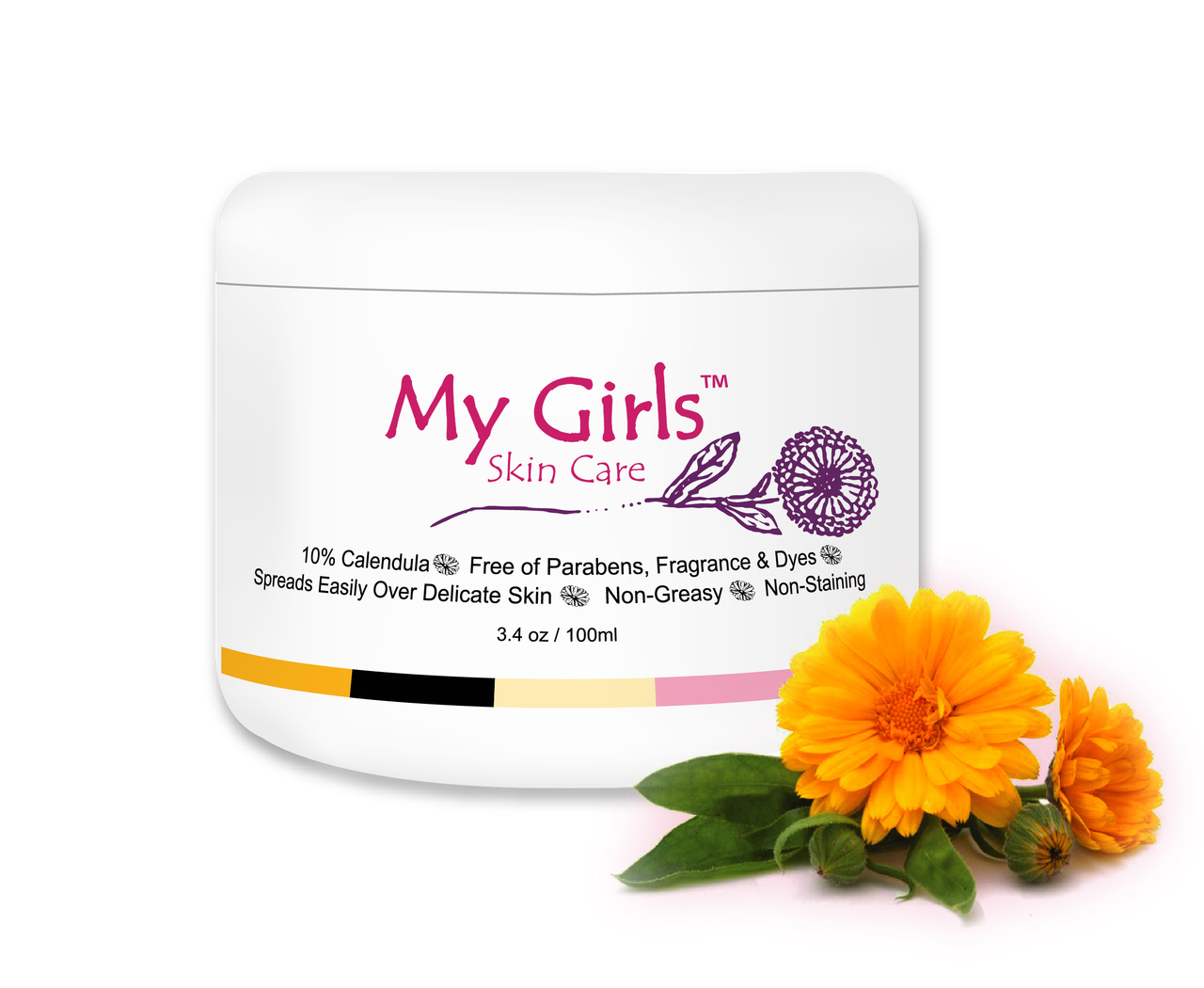 One of the more recent findings in scientific literature surrounds the use of calendula-based creams and ointments in providing soothing benefits and faster healing of acute dermatitis that develops as a result of radiation therapy. Some studies are also exploring the anti-cancer properties of the calendula plant, as well as the use of a calendula-based mouthwash to treat stomatitis, a painful mouth condition that often develops as a result of radiation therapy administered to the head and neck area.
If you suffer from dry, itchy, irritated or inflamed skin, or if you have a condition like dermatitis, rosacea or eczema, calendula cream could be just what you've been looking for to find relief from itching, burning and other symptoms. My Girls™ Skin Care features a complete line of calendula creams designed to provide symptom relief, and there are no additives like fragrances or dyes, so it's great for sensitive skin. Check out the complete line of products here .